Programs & Prices











Archery!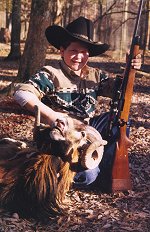 Gift Certificate

COUGAR RUN RANCH

Exotic Hunting
ARCHERY PISTOL RIFLE




Enclosed Rifle Stands
Archery Stands
Feeders

SPECIALIZING IN WILD

HOG HUNTING

Also available: AXIS SIKA FALLOW DEER AOUDAD RAMS ETC.

Phone or Fax (281) 399-9968

P.O. Box 1627
New Caney, TX 77357

---

Private Hunting Preserve - 45 minutes from downtown Houston
Give that special hunter the gift of memories!
Please contact us to purchase your gift certificate or fill in the request below and we will contact you!